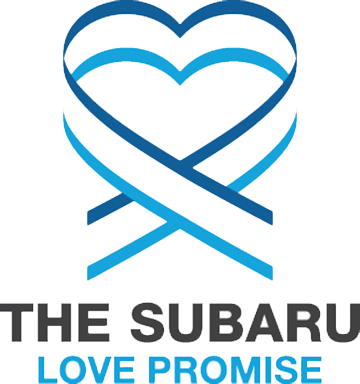 What is the Subaru Love Promise?
Subaru and our retailers believe in making the world a better place and the Subaru Love Promise is our vision of respecting all people. This is our commitment to show love and respect to our customers and to work to make a positive impact in the world.
How is Gresham Subaru dedicated locally to the Love Promise?
Our Love Promise can be seen in various partnerships with local charities and non-profits. We're grateful for the opportunity, not only to be a part of our community, but to serve it as well.
Camas Athletics Booster Club, St. Therese Church School
Katie's Kause for Cystic Fibrosis
Love Promise Stories from Gresham Subaru
Subaru and Gresham Subaru believe in making a positive impact on the communities in which we live and work. We uphold that belief through our Love Promise Community Commitment. Every month, we select inspiring stories from customers and partners from around our area who strive to support our collective commitment and feature them here
Make a Wish - Fletcher J
Dear Gresham Subaru, Thank You for all you did for the car raffle this year including your donation of a car detail. Thanks in part to you, it was our MOST successful year ever!
---
Thank you Gresham Subaru for your support! - John G
I want to take a moment to thank you for the donation through Gresham Subaru. I know that I have thanked you many times in passing but your contribution has made such an impact this year that I wanted to formally thank you. A bit of background on Alki Road Mentoring...As Principal the last 25 years I have seen many, many students fall through the cracks of being successful... simply because they didn't have the correct behaviors and skills necessary to operate in our society. As you know, being in the people business those "success skills" are paramount for a young adult entering the world outside of school. The last 12 years we have created "success luncheons" to do just that. Once a month we have the students at 4 different High Schools sit down with mentors from the community and simply talk about a theme for that day. Examples of themes are : first impressions, taking responsibility, work site protocols ...Long story short, we have impacted 512 young women and men to graduate from high school. These are students who were not on track to graduate, but by connecting these students with an outside mentor who cares, we have achieved the unheard of success rate of 100%. (we had one student, who didn't graduate on time but finished in the summer, so I still count him :) This year with your donation we were able to continue the program and help 53 students meet their goal. I'd like to tell you the stories of 2 of these students but it could easily be any of the 512 from the past. Monique (Mo) was an extremely driven girl who wanted to escape a crushing world of misfortune. One parent incarcerated, one parent drug affected. Mo was losing her battle with school because of the responsibilities she took on for the family. She listened at our luncheons and realized that she would be forfeiting on average 3.2 million dollars of income in her life if she didn't finish high school and attend some sort of schooling after graduation. We also were able to convince her that the world of poverty she would be heading into would only continue the life she was following. Fortunately, she bought into the ARM program and did what she could to rise above the chaos. We were able to get her an interview with a local Justice, we dressed her professionally, simulated an interview and were able to set the table for her success. She is working as a paralegal and is on track to go to George Fox University on scholarship. All of this would not have happened without the kind and generous gift from you. I can say without wavering you saved the future of that student... Mike, was a greasy haired, pimply faced kid who was quiet in the back of the room. He never engaged, never spoke up, and simply hid his whole life. We were able to talk him into joining our mentor luncheons and he connected with an adult who guided him through a positive impact walk. We were able to; get him to a dermatologist, dentist, barber, clothes shopping... a suit we purchased was worn to school once every two weeks ...we taught him manners and protocols to engage with people...the transformation for this kid would bring a tear to your eye. We later found out that he was homeless and estranged from parents who gave up on life and resorted to drugs. Mike wanted no part of that world. Currently, he was able to make up 5 deficient credits this year (unheard of at any school) and as I'm sending this e-mail he is picking up his cap and gown. The tears of his support team are flowing! I would like to say these students are the exception, but in fact they are the norm. On a personal note, I cannot tell you how important your donation was. I was in a difficult position of nearly shutting down the most successful program in my 35 years in education.Your ability and willingness to step up allowed me to continue and more importantly grow a program from one school to four. I cannot thank you and Subaru enough for your generosity and commitment to our forgotten kids. Sincerely and gratefully, John Griffin Director Alki Road Mentoring
---
Gresham Subaru makes the holidays magical! - Fletcher J
From mid-November through early December Gresham Subaru championed the Make-A-Wish Oregon Toy Drive to support their Holiday Magic campaign. Over three weeks, the team collected a Subaru full of toys for children currently in Randall's and Doernbecher's Children's Hospitals that Make-A-Wish Oregon will deliver during special events at each location. Their efforts to promote, support, and fulfill the need to bring magic to these children and their families who are going through difficult circumstances make them pillars of our community and people that can always be relied upon in challenging (and good) times. Thank you to Nick and the outstanding team at Gresham Subaru for their support this holiday season!
---
Gresham Subaru Grants Wishes for Kids - Mallory T
Kailia is 7 years old, loves art, painting, singing, dancing, dinosaurs and dolphins. She is also battling a critical illness and has been through many hospital stays and treatments. Nick's team at Gresham Subaru joined efforts with Make-A-Wish Oregon to grant Kailia's wish to go to Hawaii to swim with dolphins this summer! On June 7th, Kailia was treated to a luau-themed party at Gresham Subaru and was surprised with adorable gifts for her upcoming wish trip, a confetti welcome from staff, a Hawaiian feast, a hula dancer, ukulele player and a real fresh lei flown in strait from Hawaii. Thanks to our friends at Gresham Subaru for hosting a special luau in her honor. Make-A-Wish Oregon grants the wishes of children 2 1/2 - 18 years of age who are battling a critical illness. Wishes have proven physical and emotional benefits that can give a child a higher chance of survival. We are thankful for community partners like Gresham Subaru for making wishes come true for local children battling critical illnesses. Thank you!
---
WildCat Ridge Loves Gresham Subaru! - cheryl t
A HUGE thank you to Gresham Subaru for supporting WildCat Ridge Sanctuary during the 2018 Subaru Share The Love Event. WildCat Ridge received a check for $5,798.43, which covers an entire month of food for our residents. We feed our wildcats a high-quality diet that includes vitamin and nutrient rich meats that help our rescues live out their lives without ever having to worry about proper nutrition again. We are committed to providing the best possible care for our residents and we feed a diet that many have never been able to experience before coming to join us at the Sanctuary. That's just one of the things that we do to make sure our rescues are healthy and happy. Our residents come from a wide variety of horrible conditions ranging from fur farms to roadside attractions. They often come to us severely malnourished and emaciated so diet is a critical element in their recovery. With an annual food budget of $48,000, this donation goes a long way towards making sure that the tigers, cougars, bobcats, servals, caracal and all the other cats continue to receive the care they deserve.WildCat Ridge Sanctuary is a non-profit sanctuary located in Scotts Mills Oregon, committed to providing a safe lifetime home for captive-born wildcats. Earning accreditation from The American Sanctuary Association (ASA), Tiger in America (TIA) ) The Big Cat Sanctuary Alliance and verification from The Global Federation of Animal Sanctuaries (GFAS), WildCat Ridge meets strict care & safety standards, and we are the only accredited big cat sanctuary in the Pacific Northwest. As a true sanctuary, we are NOT open to the public, we are not a zoo for people we are a safe haven for animals, and we do not buy, sell, breed or exhibit the wildcats that call WildCat Ridge home. WildCat Ridge Sanctuary receives no state or federal funding relying on fund-raising, and our generous donors & sponsors. To learn more visit the sanctuary website at:www.wildcatridgesanctuary.org To see some of the videos posted go to https://youtu.be/jygZ97xfvDE
---
Gresham Subaru Loves Pets!!! - Jane M
All of us at the Oregon Humane Society would like to thank all the Portland Subaru retailers for raising and donating $56,900 to us during the Subaru Loves Pets Event! This tremendous donation will help hundreds of pets and families right here in Oregon! The Oregon Humane Society celebrated its 150th anniversary this year and we could not do it without the strong support of Subaru and the local Subaru retailers. We would especially like to thank the team at Gresham Subaru for their generous donation of $5,300. Thank you from all the Pets!!!
---
Thank you, Gresham Subaru, for supporting UPWARD! - Heather F
Many of us recall how the middle school years can be notoriously challenging. It's a big leap from the sheltered and shepherded days of elementary to complicated, peer pressure filled, semi-independence of middle school. The goal of UPWARD Camas is to ease this transition via a week-long day camp that brings together rising 6th graders from the multiple elementary schools that feed into Camas middle schools. During UPWARD we address fears or questions kids bring to middle school life; Lockers, Classes, Teachers, Clubs, Sports, Lunch, FRIENDS, and NEW PRESSURES! In many ways, UPWARD is like any other summer camp: full of fun activities and games, from rocket-building and crazy relay races, to tie-dyeing and collaborative art projects, it's where new friendships are made and given some space to grow. But beyond that, we give UPWARD kids the time and structure to think about their futures. Integrated in the day's program of fun is a research-based curriculum that focuses on reducing risky behavior including the use of drugs, alcohol and tobacco. Conversations about difficult but necessary topics at this age like reputations, consequences, and developing good habits are all in play. Thanks to Nick and Gresham Subaru, we are able to expand our program from 2 weeks at one middle school in 2017, to 5 weeks across two middle schools this summer! At capacity of nearly 250 students in 2018, we are well on the way to our goal serving all of the Camas 6th graders. Your generous support of $5,000 will directly benefit 40+ students with partial or full scholarships to attend our UPWARD camps this summer. Thanks to you, they'll have a jump on the school year, entering their new building as confident leaders, ready to help their fellow students on their middle school journey. THANK YOU!
---
Changed My Life Forever!!! - Mitchell G
As the saying goes, 2 is better than 1.... Therefore this year Gresham Subaru awarded TWO Subaru U Scholarships to TWO deserving students. The second scholarship for 2017 was awarded to Mitchell Gould. Mitchell received $3000, a new toolbox, tools and a job working for Gresham Subaru while going to school. "We are very proud of this scholarship program and think it is making a positive impact on the lives of these students, so much so that we decided to award 2 scholarships this year. We look forward to continuing this program annually to do our part to make the future bright for as many young students as we can..... Nick Smit, General Manager" "Thank you Nick and Steve for your belief in me and for changing my life forever!.... Mitchell Gould"
---
Thank You Gresham Subaru!!! - Chris N
For the 2nd Year in a row, Gresham Subaru is awarding a young student a $3000 Scholarship to Subaru U. This year's first winner is Chris Nagel. Chris received this money as well as a new toolbox, tools, and a job at Gresham Subaru to help perfect his technician skills. Gresham Subaru will also pay back any additional college loans for Chris as long as he stays employed at the store. Congratulations Chris! Below is an excerpt from his thank you letter. "Throughout high school I thought I would never get the education I dreamed of until I found the Subaru U program. Then I heard that it was possible to actually work at a dealership at the same time. I am so grateful for being awarded the Gresham Subaru Scholarship by Nick Smit and Steve Jewell at Gresham Subaru!!! They are so humble and generous providing me with $3,000 to pay for my schooling and a brand new tool box and tools to get me started. I will always put forth my best and work to prove myself as a proud, competent and motivated Subaru technician. Thank you Gresham Subaru for sending me down such a positive road and for changing my life in an unbelievable way!!! .... Christopher Nagel"
---
Gresham Subaru Continues to Share The Love - Justin Y
THANK YOU GRESHAM SUBARU!... AGAIN! For the 3rd year in a row we are so very honored and thankful for the support of Gresham Subaru's generous donation from Subaru's Share the Love Program. This year Gresham Subaru donated $57,923 bringing their total donation over 3 years to $143,082. Without Gresham Subaru's support we could not have built our wonderful center and help hundreds of teens and young adults with their additions. Our mission is to provide and cultivate an environment of recovery where all young people can overcome drug addiction and alcoholism through social interactions with recovery communities and peer-mentorship services. Thank you Nick Smit, Gresham Subaru and Subaru of America for Sharing the Love with us in support of our important mission! WE LOVE SUBARU!!!
---
Sharing the Love at the Oregon Food Bank - Oregon Food Bank F
Thank you very much Gresham Subaru, the PDX Zone, and other Subaru retailer employees for volunteering at the Oregon Food Bank. Because of you donated your precious time and hard work, we are going to be able to provide 8,750 meals to hungry Oregonians! We could not do this great service without people like you. Thank you Subaru!!!
---
Gresham Subaru for LLS - Christopher J
I arrived at the dealership quite late on a Sunday. I can only assume it was close to closing time. I was politely greeted by Bardell. I explained my reason for the visit. I told Bardell I was a survivor and thanked him for the Retailer's participation. He promptly shook my hand and patted me on the back. He said he filled out the first message of hope. He kept saying this is a good thing over and over as I was thanking him. After he shuffled through a handful of messages of hope he handed me his. I then learned Bardell was also a survivor and had left a most heartfelt message of hope. He knew I was not there to buy a car, but he shared a very intimate situation in his life. I apologized for my appearance. I explained I'd been in a car with two dogs since Friday. He did not hurry me along and remained very sincere and kind. A truly wonderful experience that filled me with warmth and the energy to continue my journey.
---
A High School Student's Life is Changed Forever - Chris R
Gresham Subaru proudly presented a $3,000 Scholarship to a Senior at Benson High School today. Chris Romig received this scholarship to attend the Automotive Program and Subaru U. at Mt Hood Community College. Chris will attend school, work part-time at Gresham Subaru, and receive a brand new set of tools all compliments of Gresham Subaru. In addition, after graduating the program, Chris will join the Gresham Subaru team full time and Gresham Subaru will pay for Chris Romig's student loan for as long as he is employed at Gresham Subaru. Nick Smit, GM and Partner of Gresham Subaru said "We are so proud to do this for Chris and look forward to him joining our team." Below is an excerpt from Chris's thank you letter. Mr. Smit, Before the beginning of my senior year, I felt like this would be my last year in schooling only because of my current monetary position. I felt like I would work at a lube shop for the rest of my life. But then came along Nick Smit and Steve Jewell. They came into our automotive class and presented me with a way to afford my schooling as well as being able to work on what I love, cars. Getting this scholarship means the world to me. No one in my family has gone to college, let alone graduate. I promise to put 110% of my efforts in my schooling as well as my job. I really appreciate the time that you've given me to show you who I am and what I'm all about. I want to thank everyone at Gresham Subaru! Sincerely, Chris Romig
---
Gresham Subaru Supports Veterans Dessert Show - Fred and Betty G
Gresham Subaru proudly donates to The Elks Lodge 1805 Players annual Veterans Dessert Show.
---
Kudos to Nick! - Lois G
Customer appreciation letter from Lois Garwood.
---
Gresham Subaru - Adopt A Classroom - Melissa W
Gresham Subaru proudly supports Adopt A Classroom as part of the Subaru Love Promise pledge by donating $250 to Mrs. Wang's classroom at Woodburn Elementary School.
---
The feel of buying from family - Jessica R
This was my first time ever buying a car before. I was incredibly nervous and stressed out about the whole thing because I had no idea what to expect and absolutely hate making decisions. Tracey at Subaru of Gresham helped me through the whole experience and stayed by my side from 9am to 5pm when I finally made the decision to buy. He made me feel comfortable and like he was on my side. I had previously only purchased cars family members had been ready to part with before but Tracey made my experience at a dealership still feel like working a deal with my uncle. The whole family there was great, and friendly, happy, excited-for-me smiles met me throughout each step. I know my car will last forever but I am confident my next car will come from them too! And I have recommended them to all my friends who are jealous of my beautiful new forester! Thank you all so much!
---
Gresham Subaru's Earth Day Event - Earth D
Gresham Subaru celebrated Earth Day by providing our customers an eRecycle bin to bring their electronic equipment for recycling. Thank you to all our customers for bringing your electronics and keeping them out of our landfills!
---
Gresham Subaru - Subaru Loves The Earth Event - . .
Thank you to all customers who recycled E-Waste during the Subaru Loves The Earth Event.
---
Gresham Subaru Donates Auto Detailing Services - Camas Athletics Booster Club .
Thank you Gresham Subaru for donating auto detailing services to support our Camas Athletics Booster Club. The proceeds will directly benefit the student athletes of the Camas School District. We really appreciate it!
---
Gresham Subaru Share the Love Donation - Winston M
Gresham Subaru, The Big Subaru Store, gave back to the Portland community with a donation of $38,431 to The 4th Dimension Sober Club. Nick Smit V.P. and General Manager of Gresham Subaru presented the check to Winston Murray Founder and President of The 4th Dimension Sober Club on March 13, 2015. The 4th Dimension Sober Club is a nonprofit organization with hopes to reach the Portland recovery community and create a blueprint of the "sober club" concept that can make a positive difference worldwide.
---